CANCELLATION OF APRIL 2020 GENERAL MEMBERSHIP MEETING

Please be advised that the Local 991 Executive Board has made the decision to cancel the April General Membership Meeting scheduled for Saturday, April 18, 2020. This decision was made in an effort to comply with all local, state and federal guidelines being issued in response to the outbreak of COVID-19. The Board, while monitoring this health crisis is committed to taking all steps possible to protect our members from any unnecessary health threats and/or possible contact with COVID-19. The Local will make every effort to keep members informed of necessary non-confidential information related to the Local's business through our website and postings on worksite Union Bulletin Boards.

Be further advised that as of now, the Local's business office will remain open for business and all Business Agents/Officers will remain working and accessible to service the member's needs and to monitor each of our employers plans for providing a safe working environment for our members. Should future modifications to the Local's operation become necessary or mandated, such information will also be posted on the Local's website and Union Bulletin Boards.

It is imperative that we call come together within our Local Union to do our part in keeping our families and our brothers and sisters protected during this health crisis. Should you have any questions or concerns in this or any other matter, please do not hesitate to call the Union Office.
| | | |
| --- | --- | --- |
| | Teamcare/Central States Info | |
| | Following is the most current info from Teamcare/Central States concerning benefits related to COVID-19. | |
| | | |
| | | |
| --- | --- | --- |
| | LEGISLATIVE 2020 | |
| | For the second year in a row Local 991 members Kammeron Brown (UPS Tallahassee) and Justin Peacock (UPS Pensacola) participated in the Florida AFL-CIO Working Family Lobby in Tallahassee during the latest legislative session. They visited with the legislators and shared the concerns of working men and women. They were joined by members from other Florida locals who are making sure that organized labor continues to have a voice. | |
| | | |
COVID-19 MOU OUTLINE

COVID-19 Memorandum of Understanding Outline

Between the IBT and UPS/UPS Freight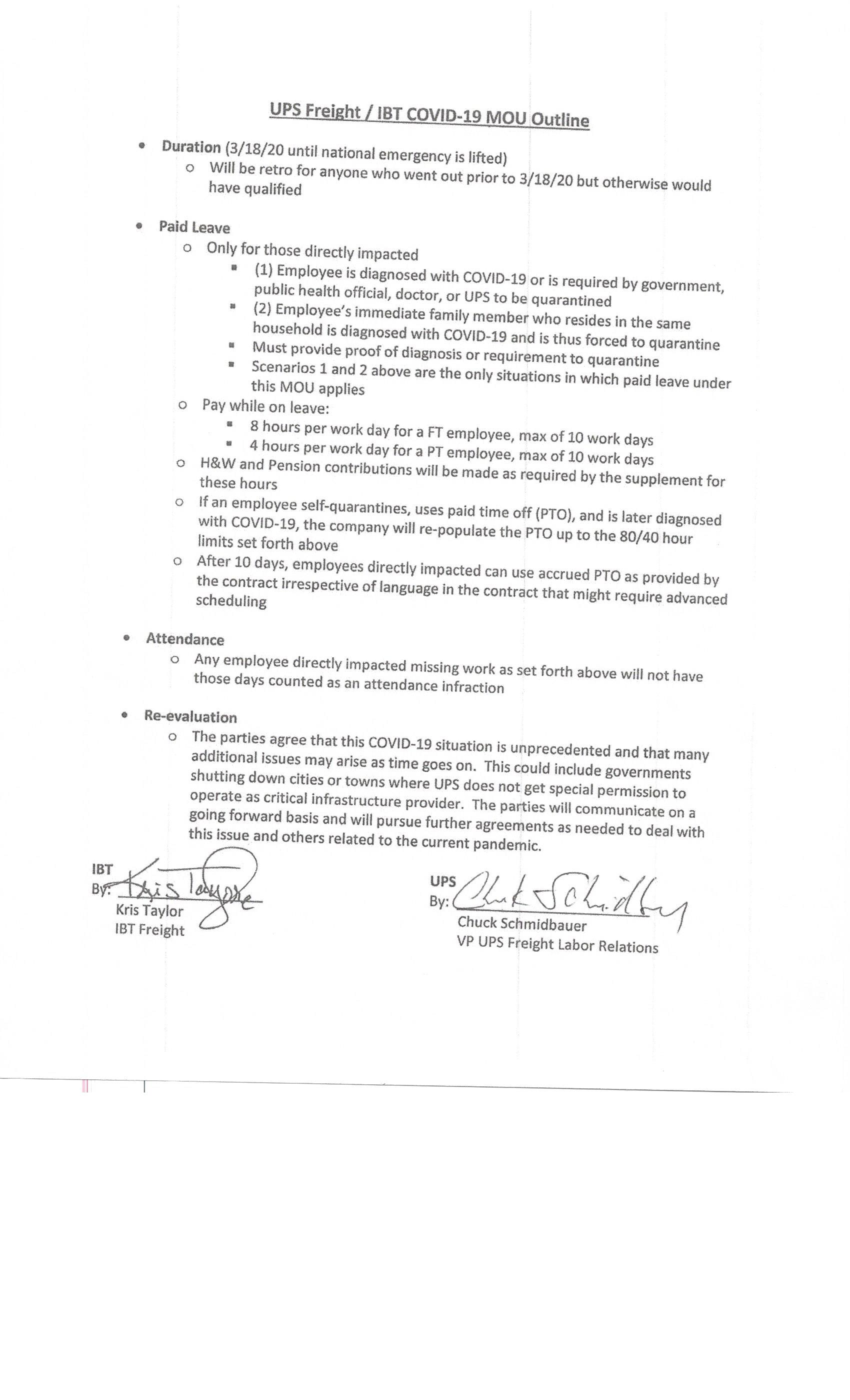 TEAMSTERS LOCAL 991 VICTORY AT COCA COLA UNITED

Local 991 arbitrated a discharge at Coca Cola United on March 12, 2019 where the Company issued a final warning and a discharge to an employee on the same day for forklift violations.

The Union argued successfully before an Arbitrator that the Company did not have the right to issue two separate disciplines for violations involving a forklift that were both done on the same day in the process of operating this forklift. The Company gave the employee no opportunity to correct his behavior but, instead, handed him two discipline forms and walked him out the door.

The Arbitrator issued a decision on May 6th, siding with the Union and ordered the Company to reinstate the employee with back pay and benefits.

Teamsters Local 991 will continue to fight these type injustices at Coca Cola and all other Companies in our jurisdiction who violate our CBA and treat employees unjustly.
Hoffa Scholarship Extension


Due to the National COVID-19 Emergency, the deadline for applying for the James R. Hoffa Memorial Scholarship Program this year has been extended to April 14, 2020. The sons, daughters and financial dependents of Teamster members in the U.S. who are seniors in high school are eligible to apply.
2020 UPS Tallahassee Retirees


Additional photos in the Photo Gallery of a recent retirement party for 6 of our UPS members at the Tallahassee, FL Center.
Membership Meetings


DON'T FORGET:  Your Teamsters Local 991 General Membership Meetings are held on the 3rd Saturday of each month beginning at 10:30 a.m. at the Union Hall, 112 S. Broad Street, Mobile, Alabama. FOR THE MONTH OF DECEMBER ONLY: Membership meeting will be held on the second Saturday preceding the Christmas Party.
Principal Officer's Message


  I would like to personally welcome all members and guests to the new and improved Teamsters Local 991 website. The goal is to make this site member-friendly, and with your input we will achieve that goal. It is with honor and gratitude that I serve the members and look forward to growing Local 991 to the level of potential that I vision.